The most characteristic element of the lumberjack style are plaid shirts. Next, we will know how we can combine them, whether we want to look formal or more street.
It can be said that in the lumberjack style, the most distinctive are the plaid shirts, whose prints are reminiscent of a kilt. They come in varied colors and there are thinner or thicker fabrics, for each season of the year.
It is a garment as functional as it is versatile, since it offers a great diversity of possibilities to combine. And while it has been adopted in everyday use, for an urban or street look, they can also be used on more formal occasions and contexts.
Therefore, it should never be missing in your closet. Importantly, it does well for both men and women of any age. Next, we will know a little more about the lumberjack style and, in particular, how to combine plaid shirts, to look irreverent and daring, but stylish.
What is the lumberjack style?
It is claimed that the type of print of the so-called lumberjack shirts has its origin in Scottish tartans. In this country, each of the clans had its own particular, one color or another predominating; although the most common were red and green.
According to the investigations, between 1747 and 1782, the British Crown prohibited the use of such fabrics, due to their political connotation, thinking that this would prevent rebellions and maintain greater control. Subsequently, some of the members of these clans decided to emigrate.
Already in North America, work attire, especially those worn by woodcutters, replicated the pattern of Scottish tartan. The first shirts with this design began to be used in the United States in the mid-nineteenth century.
These were garments made with cotton fabrics a little thick, to protect from the cold that woodcutters must resist when they are outdoors. Then, the use became popular, being adopted by various fashions throughout the twentieth century and becoming a common garment in streetstyle looks.
In a broad sense, the lumberjack style, also called lumberjack, includes the bushy beard, the use of tattoos and the slightly rough, even unkempt appearance. Although the characteristic element that has been adopted as a universal sign are the aforementioned plaid shirts.
The plaid shirt has long since conquered the streets. Therefore, it is one of those garments that should not be missing in your closet. But it is not only part of the male attire, they are also the favorite of many girls.
They usually go well with almost everything, whether it's a formal or casual style. Although there are a few ways to get more out of this classic. Let's see, then, how to combine plaid shirts to show off that lumberjack or lumberjack style.
With jeans
The combination that never fails is the set with jeans. More than the lumberjack style, this is the denim attire, especially if the shirt is short-sleeved, light fabric and with pockets on both sides.
It is perfect for a casual look. Although you can choose whether to wear the shirt outside or inside. And no matter what jean you choose, you'll always look good. Best of all: it never goes out of style.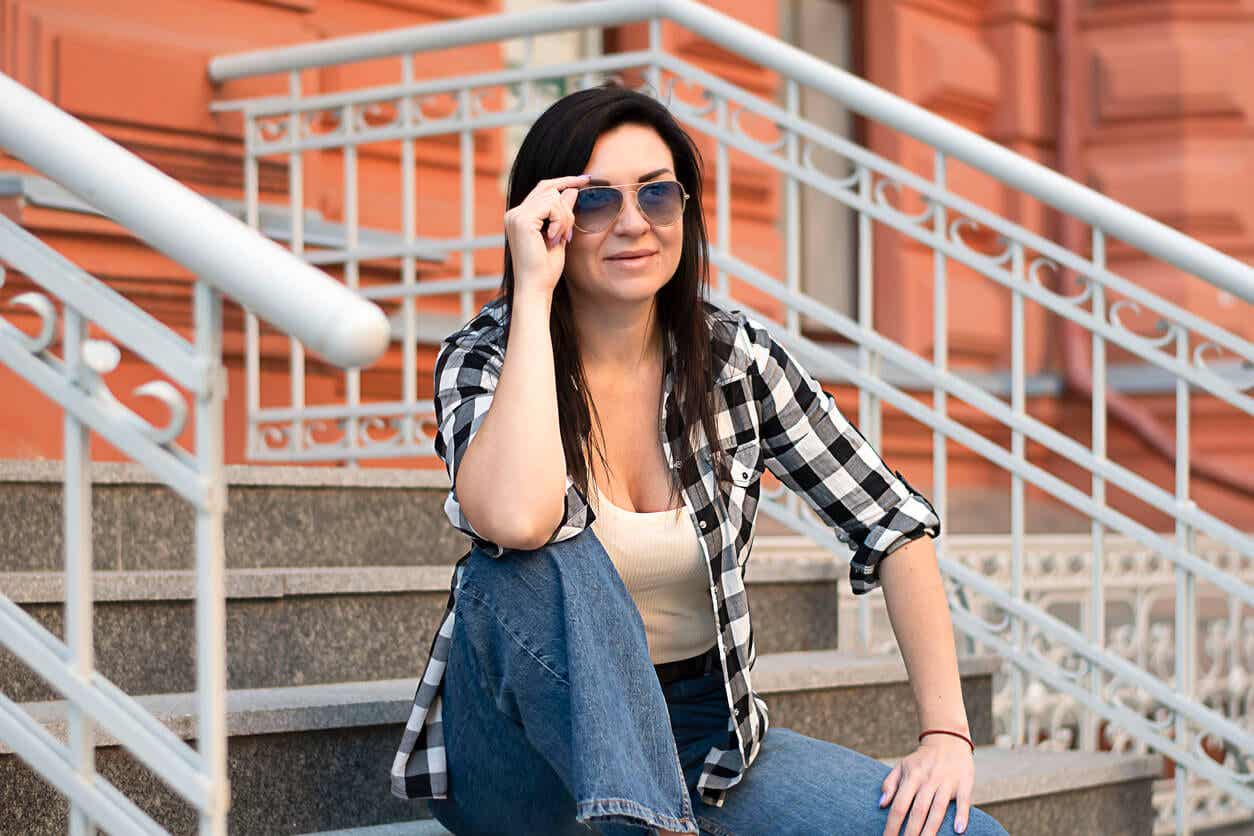 With tailor trousers and suit
Although it may not seem like it, a plaid shirt can go well with a tailor-type pants, even with a suit. Of course, keep in mind these recommendations:
The darker the suit, the better.
Try to wear a unicolor tie, which matches.
As for the print of the shirt, make it small squares and sober or cold colors.
Open overshirt
This use was popularized by the grunge movement, whose most representative band was Nirvana. Precisely, Kurt Cobain (1967-1994), the vocalist of this group, used to appear in such attire.
It is usually worn on the outside, unbuttoned and with a T-shirt underneath. It can be white and with the pattern of your favorite band. It also combines with wide pants and tennis shoes.
Tank top
A variation of the previous one, more sporty than grunge, although just as casual. A tank top or tank top is worn. It is an ideal style for summer, it allows you to go fresh and at the same time a little formal, if the occasion or the place demands it.
In that case, it is enough to button the shirt. And if you wear it open, you can show off your figure. Make sure that the shirt is unicolor, white or black, of the tone that best matches your plaid shirt.
Bermuda or capri
Following the wave of using this garment as an overshirt, you can combine with a bermuda or capri of lighter tone, which contrasts with the upper part. And if you want to accentuate the summer look, wear sandals or sneakers without socks.
With jacket
In rock style, a jean jacket with your plaid shirt goes well. If you want to add more layers, wear the white shirt underneath, the shirt buttoned halfway and then the jacket.
You can also opt for a leather jacket. In this case, we recommend that the plaid shirt is tighter and is buttoned to the neck.
With straps
Whether short sleeves or three-quarters, a good complement is the suspenders. In this case, the shirt should go inside.
By the way, it is a very appropriate look for a small child, with a short pants. It will look very vintage and at the same time cool.
Boots
In the purest lumberjack style, the combination of plaid shirt with jeans goes with mountain boots. And in the cowboy style, of course, with matching boots. But it also supports various types of sports shoes.
Caps and hats
You have to choose the following:
Beanies, on cold days or to rap a little.
Baseball cap, for a more street style.
Wide-brimmed hat type stetson, to complete the cowboy outfit.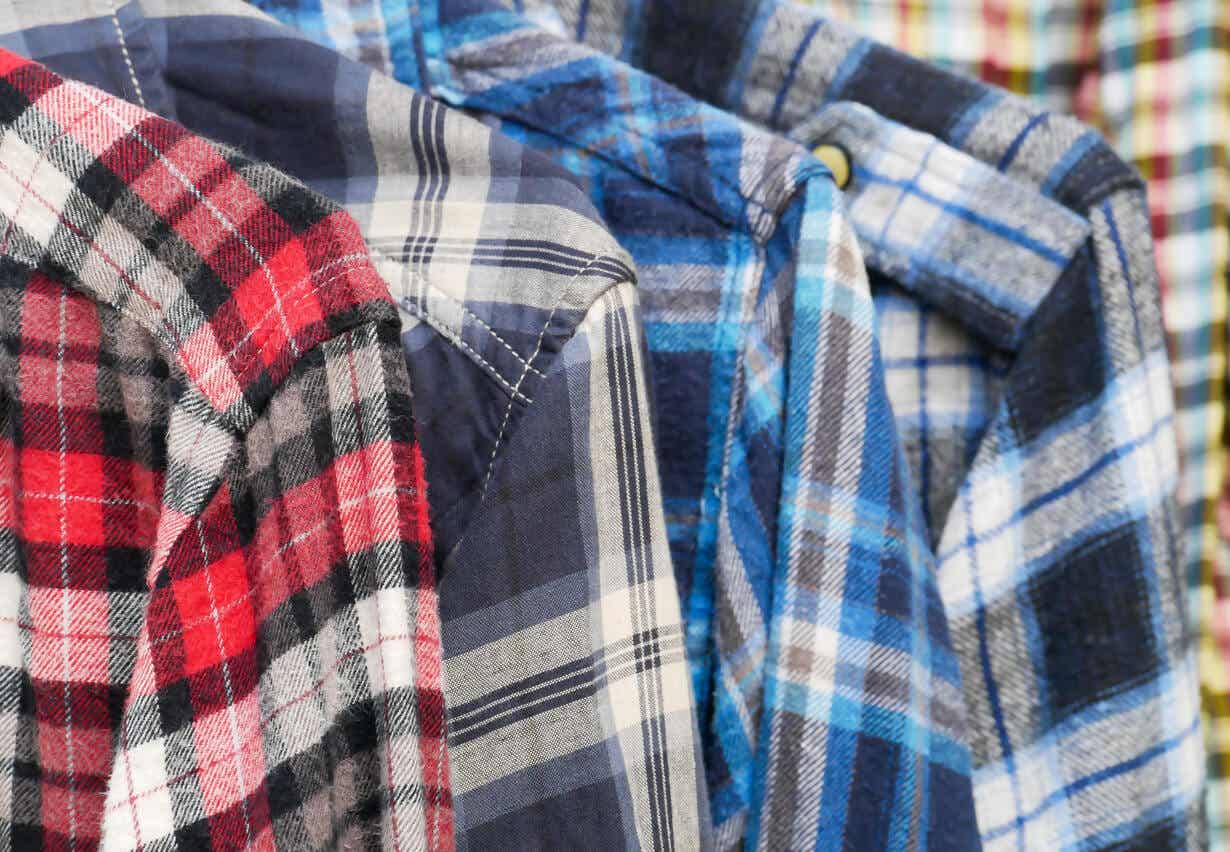 Midi skirt or denim
Although the lumberjack style is a more masculine look, plaid shirts have gained great importance in the feminine aesthetic, constituting one of the most sought after options to look casual or feel comfortable. There are several options in this regard; For example, combine this garment with a midi skirt or with a denim cut a little above the knee.
Oversize
An option that is being used a lot for this garment is the oversize, as a dress. It can be complemented with shorts or miniskirt, ideal to highlight the legs; and add some high boots. Although, if you prefer, it can be used with a top, as an overshirt, and knotted at the waist, for a sexier touch.
Plaid shirt for the whole season
The lumberjack style with the plaid shirt can be your look at any time of the year. You can even have several of these garments with different fabrics, fresher or warmer, as well as with a variety of colors.
As you have seen, you can choose from a variety of styles and, at the same time, give it your original touch, incorporating other elements, such as hats or jackets. And if you want to accentuate the lumberjack style, leave your beard, let's see how it goes.
Related Posts